At one time, you rarely saw anyone in braces except kids and teens. But more and more adults are learning that they too can enjoy a straight, healthy smile.
1. Fixed Orthodontics
If your teeth are severely misaligned or you have a problem with the way your upper and lower jaw meet (malocclusion), traditional braces will usually provide the best results. But you don't have to worry about living with an unattractive mouthful of metal. Even traditional orthodontics have seen amazing improvements in recent years, making them more comfortable to wear.
We also have option of Tooth colored Ceramic braces and Lingual Braces. So that you can get your teeth straightened and not even worry of braces being visible.
Ceramic braces make them less conspicuous so that you don't have to worry of showing metallic smile.
Lingual braces are the braces applied from inner side of teeth which makes them not visible at all.
At HappySmiles Dental Clinic, we can help you resolve just about any alignment issue you have. Give us a call today, and we'll be happy to arrange an orthodontic evaluation. At that time, we'll listen to your concerns, explain your options, and help you decide which of our treatments will help you enjoy a straight healthy smile.

2. Removable Orthodontics
a. Clear Aligners
Clear aligners offer a discreet way to address many orthodontic problems that were traditionally corrected with traditional metal braces. You can take the custom-made aligners out for eating and brushing, but you need to wear them for at least 22 hours a day for optimal results. Since Invisalign aligners are clear and conform closely to the shape of your teeth, most people won't notice you're wearing them. Within a year or less, you'll be enjoying the benefits of a straight smile!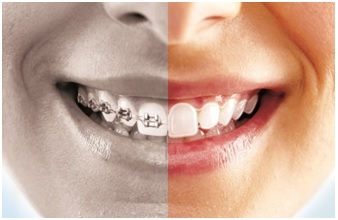 b. Orthodontic Plate
If your child is in growing age, their many problems like misaligned teeth, jaw relation can be corrected using removable orthodontic plate. Evaluation at right time will even prevent problems in future. We at HappySmiles Dental Clinic truly recommend Removable Orthodontic Plate based on the need of correction.