NABH – National Accreditation Board for Hospitals & Healthcare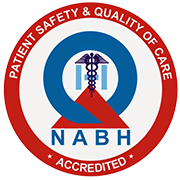 NABH is an accreditation given by Quality Council of India to dental clinics and hospitals that are following certain standard norms
Health care quality is a level of value provided by any health care resource, as determined by some measurement. As with quality in other fields, it is an assessment of whether something is good enough and whether it is suitable for its purpose. The goal of health care is to provide medical resources of high quality to all who need them; that is, to ensure good quality of life, tocure illnesses when possible, to extend life expectancy, and so on.
Health care can be measured based upon :
1. Safe – avoiding injuries to patients from care that is intended to help them.
2. Effective – avoiding overuse and misuse of care.
3. Patient-Centered – providing care that is unique to a patient's needs.
4. Timely – reducing wait times and harmful delays for patients and providers.
5. Efficient – avoiding waste of equipment, supplies, ideas and energy.
6. Equitable – providing care that does not vary across intrinsic personal characteristics.
The National Accreditation Board for Hospitals & Healthcare Providers (NABH) Standards is today the highest benchmark standard for dental clinic quality in India. Though developed by the Quality Council of India on the lines of International Accreditation Standards like the JCI, ACHS and the Canadian Hospital Accreditation Standards, the NABH is however seen as a more practical set of Standards, topical and very relevant to India's unique healthcare system requirements.
Within just 2 years of its launch, the Indian Accreditation Standards, the NABH was accepted by ISQUa, the International Society for Quality Assurance in Healthcare, as an International Accreditation on par with the world's best.
Patients are the biggest beneficiaries from the NABH Accreditation, as it results in a high quality of care and patient safety. The patients get services by credential medical staff. Rights of patients are respected and protected. Patient satisfaction is regularly evaluated. Accreditation also benefits the staff of the dental clinic as it provides for continuous learning, good working environment, leadership and above all ownership of clinical processes.
NABH Accreditation to a hospital stimulates continuous improvement. It enables the Hospital in demonstrating commitment to quality care and raises the community confidence in the services provided by the Hospital. It also provides opportunity to benchmark with the best.The staff working in an accredited dental clinic are satisfied lot as the dental clinic provides for continuous learning, good working environment, leadership and above all ownership of all processes
Finally, the NABH is expected to provide an objective system of empanelment by Insurance and other Third Parties Administrators. Accreditation provides access to reliable and certified information on facilities, infrastructure and level of care, a need being felt increasingly by the Indian Insurance Companies who have recently come out with a three tier package segmenting hospitals into A,B& C categories based on which tariffs for cashless hospitalization treatments will be set. The NABH Accreditation will naturally help dental clinic to be in the A Category.
Overall it improves risk management and risk reduction and helps organize and strengthen patient safety efforts and creates a culture of patient safety. Not only does it enhance recruitment and staff education and development, it also assesses all aspects of management and provides education on good practices to improve business operations.
NABH has clinically-oriented standards that directly affect patient care.
• Access to care and continuity of care—access, assessment, and continuity of care
• Patient and family rights—patient rights and education
• Patient and family education
• Assessment of patients—management of medication
• Care of patients
Functions related to providing a safe, effective, and well-managed organization
• Quality improvement and patient safety—continuous quality improvement
• Prevention and control of infection—hospital infection control
• Governance, leadership, and direction—responsibilities of management
• Facility management and safety
• Staff qualifications and education—human resource management
• Management of information—information management system
NABH is an institutional member of International Society for Quality in Health Care (ISQua) as well as member of its Board and Accreditation Council. NABH standards for dental clinics have been accredited by ISQua. The accreditation of NABH standard for dental clinics authenticates that NABH standards are in consonance with the global benchmarks set by ISQua and thus dental clinics accredited by NABH will have international recognition. The NABH is accepted by ISQUa, the International Society for Quality Assurance in Healthcare, as an International Accreditation on par with the world's best.
Listed below are some of the key advantages:
1. Patients
• NABH standards facilitate patient safety and reduction in errors
• Improved quality of care and importance to patient rights results in a greater patient satisfaction rate
• Accreditation helps improve the confidence of the community towards the services provided by the hospital
2. Staff
• Results in greater staff satisfaction as it provides an opportunity for continuous learning, good working environment and ownership of clinical processes
• It also helps recruitment activities as the staff prefers to work with an accredited organization over a non- accredited organization
• It ensures staff efficiency, accountability and adherence to Standard Operating Procedures
• Accreditation bodies provide continuous support and training to accredited organization.
5. dental clinic
• In addition to the above, an accreditation helps the organization streamline its processes and ensure adherence to it
• It also provides a framework for setting up quality improvement plans
• Helps in risk management
HappySmiles is
*Honored and Accredited*
Proud and Happy to announce that we are now an NABH accredited Dental Care center ….
NABH is the topmost level awarded Accreditation at National Level , which is conferred upon us by the Quality Council of India .. NABH accreditation is also accepted by ISQUa, the international society for quality in healthcare, as an International Accreditation on par with worlds best.
We are just the 2nd in Pune and 5th in Maharashtra 56th in India.
It simply means that we are Extraordinarily safe in delivering Dental care, x ray radiation safety, materials,medicines and equipments we use are of good quality standards and our trained staff is undoubtedly best in infection control and emergency management. It also means all norms of patient's safety right from air and water quality to disposal of bio medical waste are strictly followed by us. And all this is monitored at regular intervals by third party and assessed and approved by National Accreditation Board for Hospitals n healthcare providers (NABH).
We are now more powered , energized and responsible to deliver the best in Dentistry.
100s of NABH policies help us to serve our patients in the best possible manner.
We have been following health care quality standards since last 17 years but now we have an internationally recognized government organization acknowledging those standards.
As a NABH Accredited dental clinic we have following health care standards for our patients:
STERILIZATION
Ever wondered what happens to the instruments after we use them?
The used instruments are thoroughly cleaned.
Then they are immersed in an enzyme cleaner solution for atleast 2 hours. This solution is placed in an ultrasonic bath cleaner. After immersing it for 2 hours the instruments are cleaned using ultrasonic waves. This ensures that all debris is cleaned out and nothing is left on the instruments.
After cleaning it with ultrasonic waves, the instruments are cleaned again under running water so as to remove residue of solution.
These instruments are then dried and packed in pouches and are sealed. Now no organisms can enter these pack sealed pouches. These pouches are marked with the date on which sterilization takes place.
These pouched instruments are then sterilized using an autoclave. We have latest Class B autoclave. Sterilization in autoclave kills all present organisms and also ensures that no organisms survive on the instruments. Once the instruments are sterilized, the pouches are kept properly and are opened only when required for a patient. The instruments are untouched as they are seal packed before sterilization.
We not only conduct sterilization but also make sure that the sterilization is done perfectly. This is done by monthly check ups (spore test) done by Tejas Lab (Banglore) in technical consultation with University of Louisville. We have always achieved perfect results and have received certificate for the same.
So we are sure that the instruments that we use for you are safe.
DISPOSABLES
Many materials used in our clinic are disposable. The water glasses, suction tips are disposable and are thrown away after every patient and a new fresh one is used for next patient. Even the airway tips are disposable so as to prevent cross contamination. Syringes used during administration of local anesthesia, syringes used during root canal treatment are disposed off and a new fresh one used for new patient.
Disposable barrier films are placed on chair operatory area, X-ray sensor. These barrier films are removed and disposed after every patient. This ensures that complete safe and aseptic environment is maintained.
INSTRUMENTS
Instruments like files, burs, handpieces are thoroughly cleaned. Then files, burs and all other small instruments undergo cold sterilization. The used handpieces are cleaned, oiled and lubricated using a special machine. Then these handpieces are placed in a pouch containing instrument cleaning solution and then pouched and sealed.
The cotton rolls, cotton balls, gauze used during dental treatment are all disposable. They are pouched and sterilized
BIOMEDICAL WASTE MANAGEMENT
The waste generated in clinic is of various types. The biomedical waste generated is segregated according to the type of waste. We are in collaboration with PASSCO which is an organization responsible for biomedical waste management. The biomedical waste is segregated and then handed over to PASCO for further disposal. Such waste is handled with utmost care and then disposed off by PASSCO
FUMIGATION
We care about our patients' overall health and want the clinic's air and atmosphere to be always fresh and healthy. Many microorganisms grow and thrive in air. This can be completely avoided and almost all micro organisms can be killed by way of fumigation. We fumigate the whole clinic every week, before all surgeries. This kills the existing harmful microorganisms in air and prevents formation of new colonies. This makes the area sterilized. So we have taken care of not just the instruments used but also air.
WATER
The water which is used during treatment is the water dispensed from our very own water dispenser. The water used in this dispenser is tested from laboratory. A report of this laboratory testing is provided to us by the water provider. So the water in your mouth is drinking water and NOT tap water.
BIOSYSTEM
The water used is drinking water which is lab certified. But what about the pipes which carry the water from bottles to mouth? Do not worry. We have taken care of them too. A biosystem solution is washed through these pipes every 15 days to ensure that the pipes are clean even from inside.
PEST CONTROL
Pest control is carried out in clinic every 3 months.
EMERGENCY SITUATIONS
In case of medical emergency it is important to get immediate necessary treatment and help. Our clinic is equipped with facilities which are important during management of medical emergencies. Our doctors and staff are trained to handle such medical emergencies. We go through such training every year and get our knowledge upgraded regularly. We try our best so as no such emergency occurs but medical emergency can arise even in an otherwise normal and healthy person. So what is important is that people present around to be trained to be calm and composed so as to handle the emergency effectively and help the patient.
STAFF TRAINING
Our staff is trained in assistant's work. They undergo regular training and keep upgrading skills.
Everyone in our clinic has been vaccinated against many diseases like hepatitis B, hepatitis A.
We make sure that all our staff undergo regular routine health checkup